A new way to learn online.
An online learning experience built by educators for educators.
The TechChange Experience
TechChange is a social enterprise that helps organizations and companies increase their social impact and take their work to the next level. We do this through providing a learning platform that specializes in delivering professional development and training courses.
Our talented team of technologists, animators, and educators create customized, high-quality digital education materials optimized for internet and mobile distribution. In addition to our platform packages, we offer the following add-ons:
Creative Assets
Interactive Modules
Course Facilitation
Learn more about our platform below!
Features
Real-Time Interactions
Connect with users directly through individual chat or group live sessions. We make it easy to host live events with experts around the world and archive them for future viewing.
Gamification
Create incentives for users to engage with content and track progress using our custom points and certification systems.
White Labeling
Brand your platform with custom logos, colors, fonts and more. We match your branding guidelines and work to create a seamless experience for you and your learners.
Student Activity Tracking
Monitor student activities and interactions and track updates, comments, and replies. Stay up to date with course activities, even when you're offline.
Analytics
Capture information about event attendance, learner metrics, content engagement, and more.
Support
Receive support from our team of animators, educators, and developers to make sure you meet your learning objectives and needs. No question is too small for us.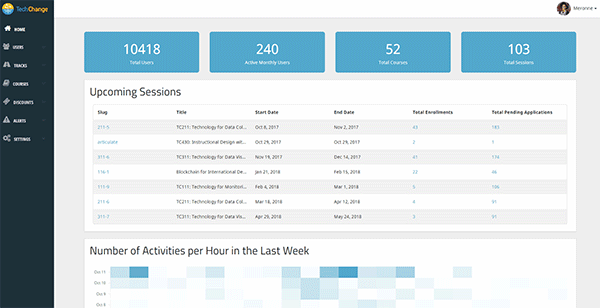 The TechChange learning platform was built by educators to meet the learning goals of organizations and people in the digital age. Our platform represents seven years of methodical and iterative development with feedback from over 20,000 students.
Try out our platform for free through our demo! 
Turbocharge your learning with the following add-ons!
Utilize our visual storytelling abilities to take your course to the next level. Our in-house illustrators & animators will help you every step of the way to turn your project into a one-of-a-kind visual experience. Creative assets include:
Animations
Icons
Graphics
Avatars
Interactive PDFs
Videos
Add a creative asset to your platform package today!
We excel at building interactive digital courses that keep students engaged and inspired. Our instructional designers follow your vision to create an immersive learning interface that can be accessed through a webpage, mobile device, or offline. Authored in Articulate 360, our interactive modules are a perfect addition to your platform package.
Add an interactive module to your platform package today!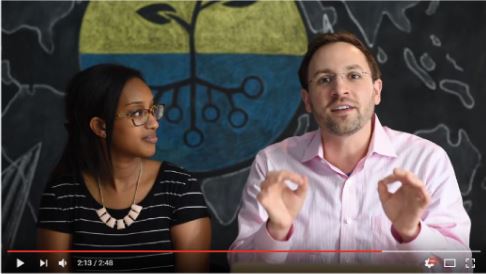 Course facilitation and content creation are what we do best. Our course facilitators can help with:
Researching course topics
Designing an intuitive course layout
Facilitating or backstopping live event sessions
Answering course content questions for your students
Add course facilitation to your platform package today!
Featured Platform Partners
Platform highlights
Read about one of our completed courses using our platform.
Frequently Asked Questions
We have been teaching online for over 7 years and have learned a lot along the way. As we teach our own courses on our platform, we have a deep understanding of how to create the most compelling experience for our users. Since we also build our platform, we can use these feedback loops to inform the roadmap for planned features and upgrades to the platform itself. Our platform also enables synchronous, real-time learning and community building. We believe people learn best when they're engaged with their classmates, so we work hard to create communities as part of our course experience.
TechChange courses are delivered entirely online. Each course is designed to be highly interactive and social, but we work hard to ensure that the majority of course content can be experienced in a self-paced manner. We do feature real-time interactions each week such as live discussions, live expert interviews, and live simulations. In order to accommodate busy schedules of learners from around the world we've set up a learning environment where participants have plenty of options and can choose the ones they'd like to be involved with depending on their availability and interest.
The key to engagement is facilitation. We can't stress this enough. The platform is built to ensure that facilitation is as easy as possible, but even with the most advanced platform, an online experience without proper facilitation (synchronous or asynchronous) can leave learners lost and disengaged. We use passive mechanisms like gamification and learner analytics to help learners who find these feedback mechanisms motivating. We also stress regular live event check-ins and practical exercises to keep learners involved in their own success.
Yes! We have had organizations use our platform for training programs, fellowships, and more. If you would like to use our platform for a different need, we would be happy to talk to you about your project and how we can help. Contact us at info@techchange.org to get started.