It was a long Sunday night for the TechChange Selection Committee. After everybody else was long asleep, brackets printed, hours of analysis on ESPN consumed, and even the angry tweet of Nate Silver had lost its glimmer, the Selection Committee left the nerd attic with a bracket that will make March Madness look like child's play.
There aren't a billion dollars online for a perfect bracket. Nobody will emerge victorious with a ring. This won't affect anybody's lottery pick.
This is simply for glory.
Over the past year, we have amassed an incredible number of potential band names in our office. With every random utterance of an unexpectedly catchy phrase, somebody yells "Band name!" And the ingenious, or just lucky, speaker gets the enviable task of adding the new band name to the already cluttered wall–basking for a moment in the limelight.
In the spirit of March Madness, we selected the best of the best and placed them in a seeded* bracket. In the end, our highly scientific process created the bracket below.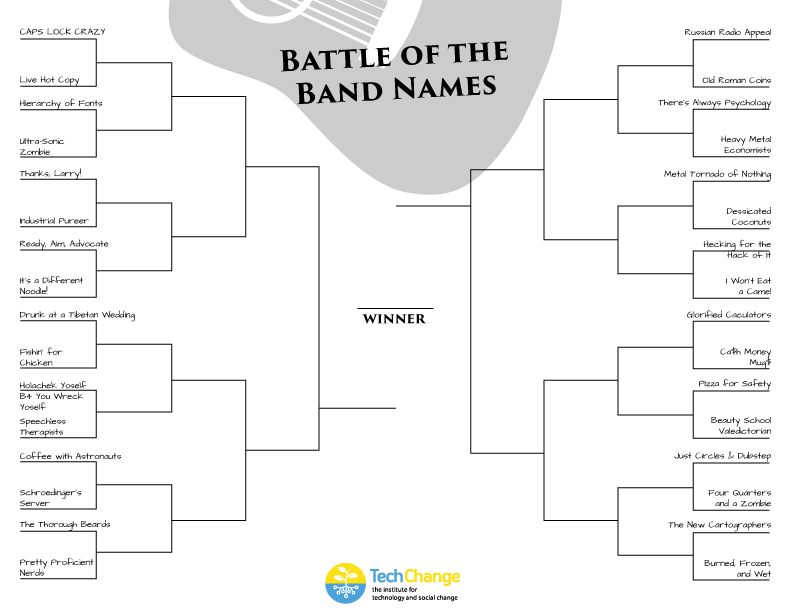 Help us choose the winner of the Battle of the Band Names by casting your votes below! Each week, we will release a new set of matchups (and an updated bracket) until we find our winner. The winner will become the official band name of the Official TechChange Band.**
The stakes have never been higher.
Make your voice heard.
* We believe our Selection Committee is as qualified, if not more qualified, than the NCAA's Selection Committee. We would have seeded Louisville much higher.
** We are currently looking for talented guitarists, bass guitarists, drummers, keyboardists, accordionists, singers, songwriters, and woodblock players for our band.