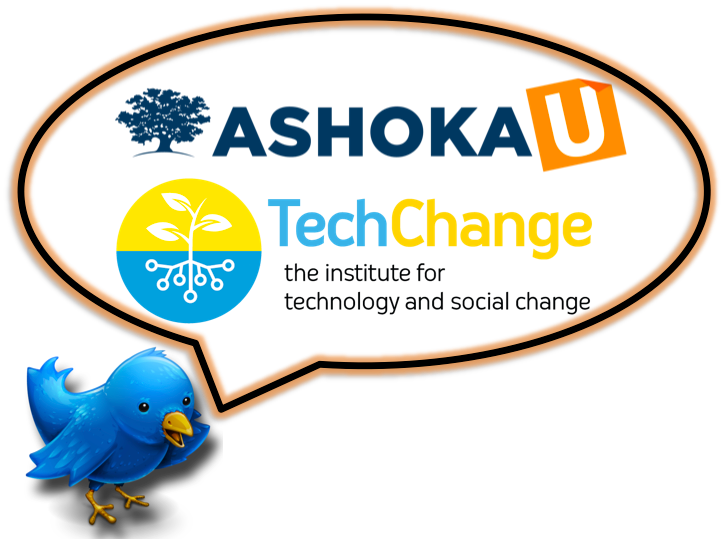 Last Friday, 81 Tweeters joined for one hour to discuss the current landscape and future of technology and social entrepreneurship in higher education. In the Twitter Chat, hosted by TechChange and AshokaU, 410 tweets were sent and 50 URLs were shared that informed of some of the most innovative and relevant advances in the space. You can view all the statistics here at summarizr.
First we asked for specific examples of social entrepreneurial tech ventures. We got some interesting replies and learned about a lot of great work that people are doing. Here's the list of people, organizations, and businesses that were mentioned.
The conversation then transitioned to explore the barriers that exist to innovation in higher education (i.e. how to engage students from technical disciplines like computer science and engineering to become more involved in social entrepreneurship). Here are a few of the responses. (Tweets have been rewritten for more readability)
@MicheleGAtDell: Engaging more tech students means providing incentives, they need to see real examples and believe they have resources and tools.
@BldgTomorrow: We've launched design contests for schools that we're building in Uganda. These contests are supported by Architecture for Humanity.
@BANKONRAIN: Having speakers from 'real world' come in to talk about what they do, the social impact they are making and the need for change.
@TechChange: We're really excited about finding responsible ways to bring video game mechanics to the classroom space.
@BizStudioTeam: I think through all levels (elementary, high school, etc) education systems must empower social good as they teach science, technology, engineering, and mathematics.
@AshokaU: Ashoka Fellow Bernard Amadei started Engineers Without Borders and is a great example of social entrepreneurship in technical disciplines.
@BallardCenter: Barriers include students too focused on grades instead of innovation/learning and social entrepreneurship.
@StudentsforSocEnt: We created a social entrepreneurship innovation class for engineering, sociology, and business students to collaborate, create, and implement a product in the developing world.
@AshokaTweets: Big vision helps: Stanford students helped to develop a constitutional crowdsourcing platform for Egpyt.
We want to thank everyone that participated in the chat and we look forward look at each of these tools more at a more in depth level. By the end of the chat many agreed that technology is just a tool and that educators need to focus how to best leverage it. Teacher capacity building should now include training in the use of digital interactive textbooks, video conferencing, social media, Q&A forums, and a host of other tech mediums to help students learn. The challenge is for us is to not become inundated with the abundance of tools that are available and select the ones that are most useful.
At TechChange we're working to provide dynamic trainings both online as well as in person. You can read about our approach to technology in higher education in an article by Chronicle of Higher Education. We will have three online courses this fall and we're especially excited about our course in January,  New Technologies for Educational Practice (Jan 9 – Feb 3). We also provide on-site international professional trainings in the use of educational technology tools.
Again we recommend signing up for the Ashoka U Exchange 2012 at Arizona State University. This will be a prime occasion to see amazing ways universities and individuals are teaching social entrepreneurship in higher education. We're especially excited about the hackathon!
Of course we missed many important efforts in the educational technology space in this post, and we welcome your comments and additions to this list!