On October 15th, 2010, TechChange staff, advisory board members, friends and colleagues came together at our office in Washington, D.C. to reconnect about our progress and brainstorm ideas for our future. To learn more about who was there, what was discussed and what was achieved – keep reading!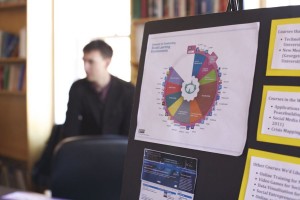 On a windy and rainy Friday afternoon, a group of social change leaders and technology enthusiasts gathered over delicious refreshments to recap recent activities, generate new plans and evaluate the accomplishments of TechChange in the past four months. In true TechChange fashion, the interactive meeting featured four stations that guests could visit to learn more about our work.
First off was the social learning and pedagogy station where our friends from International Youth Foundation, International Center for Non-Violent Conflict, Ashoka, Development Alternatives Inc and George Washington University had the opportunity to learn about some of the online coursework we are developing as well as receive a debrief about the recent courses taught by the TechChange team such as a class on peacebuilding and new media at Georgetown University. Blackboards were available with post-it notes for everybody to share thoughts, suggestions and feedback which was then compiled by TechChange staff and will be incorporated into our future endeavors.
Another station was set up to share simulation ideas we are hoping to execute as well as some very cool models we hope to build on such as the Aves Engine. The third station was a sit-down interview opportunity for us to learn more about some of the work of our partners and how TechChange may be able to collaborate with organizations such as IYF on current projects. For example, Daryn Cambridge, who is the Director of Knowledge and Digital Strategies at ICNC, shared thoughts on having just completed a webinar on non-violent conflict and some lessons learned relevant to the e-learning projects we are developing here. Stay tuned for blog posts in the near future about the interviews conducted!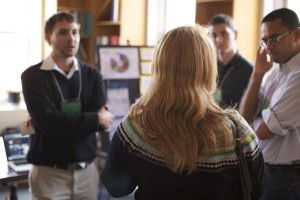 Finally, there was also a "future station" where we asked for expert advice on how to reach a wider audience, design coursework that is exciting for students and point us towards new partners. All in all, a productive Friday afternoon has reenergized our spirits at TechChange. We are confident about our ability to become a leader in promoting social change through technology but also humbled by all the enormous tasks ahead. Thank you to all our followers for your support and as always, please feel free to share ideas and feedback!