Iran's 10th presidential elections, held on 12 June 2009, saw a much disputed victory of incumbent Mahmoud Ahmadinejad over opposition candidate Mir-Hossein Mousavi. As reports of voting irregularities grew, millions of Iranian Green reformists took to the streets in protest.Within a few days, traditional media was banned and international satellite broadcasts were jammed, in an attempt to stifle video footage of government violence targeting opposition supporters. In demanding their voices be heard, Iranian citizen journalists took to the Internet.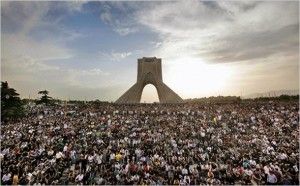 But this wasn't an easy fight! In the 2009 post-election climate, Freedom House ranked Iran the world's 10th most repressive country for media, ranking 187 out of 196, due to its widespread crackdown on journalists. As a result, Iran has been called "a regime paranoid about journalists and bloggers."
One of the most dangerous aspects of the Iranian regime is that it has complete control over internet access in the country. Every local Internet Service Provider is routed through the infrastructure of the state-owned Telecommunication Company of Iran which means they have the ability to track each packet sent and received by a computer in the country.
In light of the post-election censored climate, 2010 Media Guardian Innovator of the Year Award winner Austin Heap and business partner Daniel Colascione of the Censorship Research Center, created Haystack. This proxy server system tricked the not-so-tech-savvy Iranian regime, which has according to Heap, made it "illegal for people to have an opinion, to have a conversation." Haystack uses mathematical formulas to hide users real Internet traffic within a stream of innocuous requests.
Heap explains: "Instead of connecting from Iran directly to Facebook, for example, which they block, you connect from Iran to Australia then to Facebook." But the Iranian regime figured a way to tap into the proxies. Fighting harder this time, Haystack pushed the regime "all the way up against the wall," hiding encrypted data inside official government traffic.
Want to help Haystack in their fight for online freedom in Iran? Check our their effort to collect 1,000 USBs as a means to seed Haystack in Iran: "dig through your drawer, fish through your pockets, look in the swag bag from a recent conference; almost everyone has a thumb drive or two lying around." Haystack is almost there! 976 down, 24 to go! Keep up the good work! And keep updated on Twitter: @crcorg and @haystacknetwork
Image courtesy PBS
​