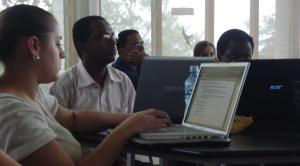 Last week, TechChange Co-Founder and President Nick Martin taught a one-week course on Technology and Peace at the United Nations-mandated University for Peace (UPEACE). It was the first course of its kind taught at the university. Participants engaged in a variety of discussions, case studies, and practical exercises involving how  technology can be used for building peace. The course also made use of a number of new technology-focused teaching techniques to ease the learning process.
Some highlights from the course:
So what did the students think?
"This was a great experience and showed that UPEACE is trying to keep up with the latest developments in social change. I highly recommend this course to others."
"I think I've been missing the tech angle all this time in my work. "
"As an overview of technology uses in the field, this course provided an excellent foundation in knowledge and created many opportunities for future exploration."
"One of the best course facilitators I've had, really enjoyed the focus on course activities to illustrate topics."
"UPEACE is a remarkable place and the week long institute in Costa Rica is a refreshing taste of the educational experience delivered here. Highly Recommend."
"Very dynamic and interactive class – a lot of exchange between students coming from different countries with different backgrounds and experiences. Great teacher too!"